Follow Us: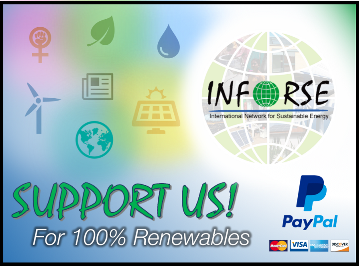 Event: UNFCCC COP26 INFORSE Side Event & Exhibition: Nov 5 2021
SIDE EVENT: - Organised by INFORSE - INSEDA - SusWatch - SE
November 5, 2021 - Time: 11:30-12:45 GMT
och Lomond Auditorium
Title: Local Climate Solutions & Eco-Village Development, 100% RE in NDCs, East Africa, South Asia, Europe
More...
Project EASE-CA East African Civil Society for Sustainable Energy and Climate Action 2019-22
East Africa NGO Cooperation of four national NGO organizations of INFORSE-East Africa. Partners are: SusWatch Kenya, UCSD & JEEP in Uganda, TaTEDO in Tanzania, INFORSE-East Africa c/o TaTEDO, INFORSE and NFRE in Denmark.
More...
Project: ACE West Africa - Accelerating Implementation of Regional Policies on Clean Energy, 2016-18
INFORSE is cooperating with ENDA (INFORSE cordinator) in Senegal, CEAS in Burkina Faso, MFC in Mali, JVE in Benin, OPED in Togo, AFHON in Cote d?Ivoire, CODDAE in Niger, and SustainableEnergy (in Denmark, project leader).
More...
Project: EVD - Eco-village Development in South-Asia, 2015-18-20
NGO Cooperation project on Advocacy on Sustainable Eco-Village Development climate change, protect environment and reduce poverty.
More...
Projects
The INFORSE secretariat offers professional staff to cooperate with members on project development. The intention is to:

Participate in specific projects. Priority is given to projects that increases access to energy for the poorest population groups.

Organize seminars and workshops on e.g. sustainable energy strategies, policies and action plans.

Develop regional capacity building programmes for NGOs and other relevant actors.

Contact
INFORSE Secretariat
Klosterport 4F, 1. floor
DK-8000 Aarhus C
Denmark
Phone: +45 86 22 70 00
Twitter: INFORSE_org
Facebook: INFORSEEurope
Web: inforse.org
E-mail: ove@inforse.org