Follow Us: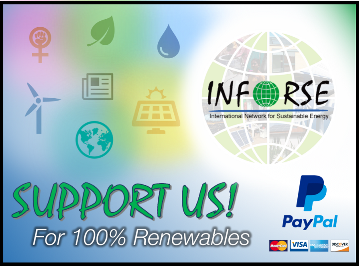 INFORSE regional web sites:
INFORSE-Europe
INFORSE-Asia
INFORSE-Africa
INFORSE Contact Online Database
INFORSE online database of 1000 organizational contacts
INFORSE Projects/Events
Links to INFORSE projects like the Education Project DIERET, Sustainable Energy Vision 2050, Participation at UN Processes (UNFCC COPs, Rio Conferences), and INFORSE-Europe Seminars in Brussels.
INFORSE Publications
Links to INFORSE publications like Sustainable Energy News, DIERET CD, INFORSE-South Asia CD on Sustainable Energy to Reduce Poverty
INFORSE at the UN
Links to INFORSE participation at UN Conferences. INFORSE has consultative status to UNFCCC and ECOSOC.
Links collections:
NGO Networks, Industry Associations, Education, Intergovernmental etc
International Partnerships
Demonstration Centers
INFORSE Links
Useful links offered by INFORSE coordinators and the INFORSE secretariat.
Contact
INFORSE Secretariat
Klosterport 4F, 1. floor
DK-8000 Aarhus C
Denmark
Phone: +45 86 22 70 00
Twitter: INFORSE_org
Facebook: INFORSE
Web: inforse.org
E-mail: ove@inforse.org