Follow Us: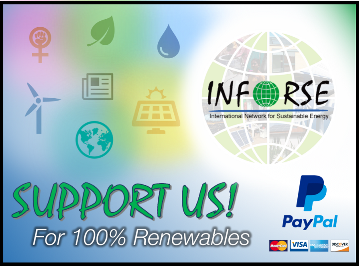 INFORSE Exhibition Against Desertification
By Secou Sarr, ENDA-Energie, INFORSE West Africa coordinator.
&nbsp
When the countries met for the third conference (COPIII) of the Convention to Combat Desertification (UNCCD), in Recife, Brazil, in November 1999, INFORSE was actively promoting sustainable energy solutions.

During the conference, the INFORSE network, through its West African coordinator, organised an exhibition showing the results of a two-month process to identify renewable-energy projects that support the fight against desertification. The process involved projects and organisations in Senegal, Burkina Faso, Mali, Mauritania, and the Republic of Guinea. The exhibition was also used as a point of distribution of Sustainable Energy News' special issue on "sustainable energy to combat desertification" in English and French. More than 700 copies were handed out during the conference.

In addition to this awareness-raising, the INFORSE network participated in the various actions organised by the RIOD (International Network of NGOs to Fight Desertification). The actions were focussed on national action plans to combat desertification, and they included discussions of the necessary funds related to these plans.
Various other informal meetings were organised, primarily with the active members of INFORSE that were present, but also with official delegations, including the delegation of Denmark.
Information on INFORSE activities on Desertification: INFORSE West Africa, ENDA-Energie, Senegal,
att. Secou Sarr
e-mail: energy2@enda.sn,
http://www.enda.sn/energie/
ph:+221-822 5983/-822 2496,
fax+221-821 7595/-823 5157.