Follow Us: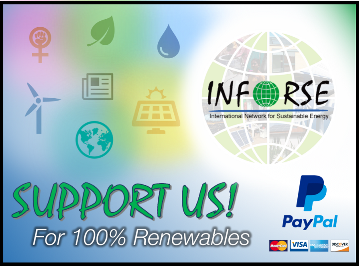 Solar Lantern Manufacturing - A Woman Entrepreneur's Story
Kiran Sharma started her own industry to generate employment to others.


By Kiran Sharma, AIWC,-INFORSE member- India
 
It is a great privilege for me to introduce myself as a "Woman Entrepreneur" in the field of renewable energy sources.
I believe that most women have a desire to do something valuable for the society and, at the same time, to be independent economically and politically. Few, however, have the right direction and motivation to undertake a job that can satisfy their urge to be helpful to others while allowing them to set and to meet their own goals. Every one has some hidden talents, which can be explored by inspiration, motivation, and orientation in the right direction.
With the changing global scenario, women are no longer automatically considered to be housewives. They are competing and exploring all avenues around them in almost every field like space, medicine, other sciences, industry, etc. Women's entrepreneurship development programs, which are offered by various institutions, have enabled many women like me to come to the forefront and to make additional positive contributions to the society.
Working as a teacher, I always had the desire to start a good educational institution to impart quality education to the children. I always had a keen desire to start something where I can generate employment and can encourage them to be economically independent. I had the enterprising spirit which propelled me to explore the possibility of successful women's enterpreneurship in small-scale industry.
From an idea to 5000 Lantern
The idea of manufacturing a solar lantern is the result of my long association with the Rural Energy Department of All India Women's Conference (AIWC), which is also an INFORSE member. I am greatly impressed with the devotion and dedication of its Chairperson, Mrs. Lalita Balakrishnan. It is her commitment to improve lots of our sisters' life at the village level by providing them with biogas plants, smokeless chulha, solar cookers. This always encouraged me to help rural women by generating some employment for them, so they can lead a better life. At AIWC, the various awareness programs, workshops, and demonstrations of renewable energy sources enabled me to identify a product that can use our natural resources. We are manufacturing a light that can get energy from a solar system. It can be handy and helpful during the night time, both in urban and in rural areas. The 12-V rechargebale portable lantern system was evaluated and approved by MNES (Government of India). I have set the target of manufacturing 5,000 solar lanterns in the first year.
With the help, cooperation, and guidance from my friends and colleagues, I definitely hope to achieve my goal.
To start with, every one has to face many difficulties, but with a positive attitude, one could overcome the difficulties and handle the situation patiently.
Contact:
- AIWC, Sarojini House, 6 Bhagwan Dass Road, New Delhi 110001 India.
Ph: +91-11-3389680, 3381165, fax: + 91-11-3384092,
e-mail: aiwcctc@nda.vsnl.net.in.
- ADITYA Enterprises
Plot No. H1-838 Phase III Bhiwadi Indl. Area, Bhiwadi, 301019 Dist. Alawar, Rajasthan, India.
Ph: +91-12-9291549.