Follow Us: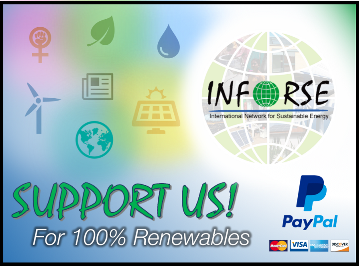 INFORSE Coordinators' Meeting 1999 October 18-22, Denmark
&nbsp
Ideas, comments, and proposals are invited from INFORSE members for the coming Coordinators' meeting in Denmark. On the agenda of the meeting will be:
- Development of the network, including a discussion of the future of the network and appointment of national focal points.
- INFORSE activities directed towards the UN, in particular towards the Convention to Combat Desertification (UNCCD), the Climate Convention (UNFCCC), and the Commission for Sustainable Development's Session on energy (CSD9).
- Funding for NGO energy activities, including the INFORSE South-South-North fund and INFORSE activities to attract more external donors for sustainable energy activities.
- Strengthening of regional activities, including further outreach in French and Spanish.
- Global INFORSE campaigns.
The meeting will take place in Copenhagen and at the Danish Folkecenter for Renewable Energy.

Proposals and ideas for the meeting should be sent to the INFORSE Secretariat (see page no. 2) and must be received no later than October 1. Proposals should be marked "For Coordinators' Meeting '99" and preferably sent by e-mail to inforse@inforse.org with a copy to the nearest coordinator.