Follow Us: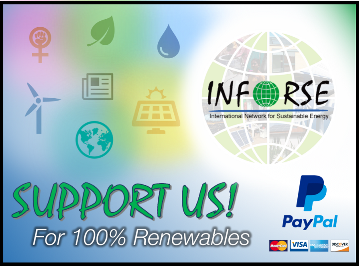 Contents SEN 83 - Sutainable Energy News - December 2019
Newsletter of INFORSE, International Network for Sustainable Energy

EDITORIAL p. 2
COP25: Step Up Reductions and Support, also for Loss & Damage

CLIMATE COP p. 3
Raise Climate Ambitions: UN & Beyond

THEME pp. 4-8
EASE-CA // East Africa
New NGO Cooperation: East African Civil Society for Sustainable Energy & Climate Action (EASE) in Uganda, Kenya, Tanzania.

EVD // South Asia p. 9
New Cooperation to Strengthen Eco-Village Development (EVD) in Nepal, Sri Lanka, India, Bangladesh.

EUROPE p. 10-11
INFORSE-Europe News
Zero Carbon Britain; Power of Community Energy Erasmus+ Project; INFORSE-Europe at EUSEW '19, EDD '19; Statement: Community Vision Coalition; EU Info in Denmark; 100 % Renewables Scenarios; Ecodesign; Community Power, UK.

BACK PAGE: p. 12

INFORSE at UNFCCC COP25 in Madrid, Spain
- Exhibition: December 9-10, 2019
- Side Event: December 13, 2019

INFORSE description

European Sustainable Energy NGO Seminar: August 18-22, 2020, Denmark.