Follow Us: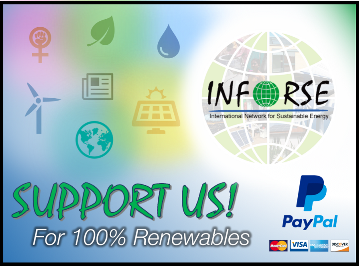 First Big Wind Power Plant in Costa Rica
&nbsp
In May 1996, the construction was completed, and the first big
wind-power plant is in its testing phase in Costa Rica, where,
depending on the location, the annual average wind speed is
10-11m/s.
The 20-MW plant with 55 KVS-33 wind turbine generators, supplied
by Kenetech of the USA, will help to meet the country's growing
electricity needs in an environmentally friendly way. In
addition, it will save the country an estimated $3.8 million a
year in imported fuel oil that it would have needed had it relied
on fossil-fuel for additional power. The current price of
electricity is 5-6 cents/kWh. In Costa Rica, the total installed
capacity is about 1,000 MW, most of which is hydroelectric. The
plant will be owned and operated by Plantas Eo'licas S.A.,
sponsored by Grupo Zeta, a Costa Rican industry group, and
Charter Oak Energy, a subsidiary of Northeast Utilities of the
United States.
The project is probably "the first commercial-scale, privately
owned and operated wind power park project in the world to be
built without economic incentives of any kind". The
Inter-American Development Bank (IDB) approved the $18.7 million
loan in December, 1995. The facility will be located at Tejona,
canton of Tilara'n, Guanacaste province. Adjacent to it, a
similar wind-power plant is being considered by the Costa Rican
Government and would be built by the Instituto Costarricencse
de Electricidad, the national power company. That sister plant
is also being financed in part by an IDB loan and a $3.3 million
grant from the Global Environmental Facility, whose trustee is
the World Bank.
Source and more Info:
Christopher Hunt, president of PESA, Plantas Eolicas S.A, c/o
Merrill International, 20 University Road, Suite 510, Cambridge,
MA02138, USA Ph/fax: +1-617-661-9540/- 661-9244.
Samuel Silva, IDB Press Officer, 1300 New York Ave, NW
Washington. D.C. 20577, USA.Ph/fax: +1-202-623-3731/623-1419,
email: samuels@iadb.org.