- UN - Rio - UNFCCC

- Projects- Events

- Publications


Gender
Follow Us: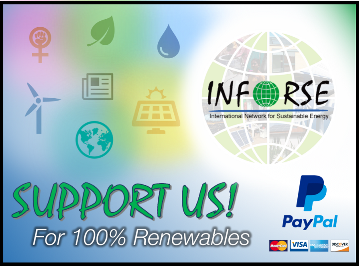 INFORSE and Combating Desertification
The International Network for Sustainable Energy is a global network of independent NGOs working for sustainable energy solutions (renewable energy and energy conservation) to protect the environment and to reduce poverty.
INFORSE lobbies the international agenda including the Convention to Combat Desertification. The aim of this is to make the countries optimise their use of sustainable energy to combat desertification and to involve NGOs in this. To involve INFORSE members and other NGOs, the network can initiate and support courses, workshops, information campaigns, and demonstration projects.

For INFORSE's activities on sustainable energy to combat desertification, contact: INFORSE West Africa/ENDA-Energie or the INFORSE Secretariat.