The Nordic Folkecenter for Renewable Energy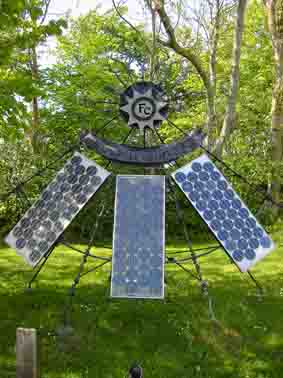 What is the Folkecenter?
Established in 1983, the Folkecenter is a visitor and training center devoted to spreading and demonstrating information on renewable energy. The Center is also doing research, development, testing and implementation of innovation within the renewable energy field and other environmental technologies. The Folkecenter is member of INFORSE-Europe.
What Can Visitors Find?
- Test site for different types of windmills up till 30 kW.
- Exhibition hall with different types of wind turbines and windmill blades.
- Exhibition of several types of solar water-heating collectors.
- Different type of solar cells (PV) on the roofs of buildings and integrated in windows.
- A plant oil laboratory to supply cars running on pure plant oil (i.e. rapeseed).
- Hydrogen plant and filling station for cars.
- Cars powered by plant oil and hydrogen.
- "Biodome", a greenhouse, where aquaculture techniques are implemented.
- Green waste water treatment based on biological systems.
- "Plus Energy House" a house which produces more energy than it consumes (exhibiting several wave energy models, a small-scale biogas plant and mobile insulation material in the facade.)
- Straw bale house where visitors can see different insulation materials and renewable energy equipments
- Test site for wave energy devices (located in Nissum Bredning).
- Octagonal Conference Hall seating up to 200 people.
- Small shop and library

Guided Tours
There are possibilities for: Self Guided Tours, and Professional Guided Tour for Groups.
Which Services are Provided?
- Visitor and demonstration center
- Short training courses and workshops (i.e. "Do-it-yourself" course on solar heating systems, car conversion to run on plant oil, etc).
- Consultancy to manufacturers, local consumer groups, and initiators in the renewable energy field.
- Trainee possibilities for 3-6 month periods.
- 3-month training period of the 10-month WWEI program started in 2007.

INFORSE Seminars
INFORSE-Europe organised Seminars at the Folkecenter in 1990, 1993 and 2001 (proceedings).
Articles in Sustainable Energy News:
The issues can be downloaded from the web site of INFORSE.
Name and type of project

The Nordic Folkecenter for Renewable Energy
Training, Demonstration and Development Center

Starting year
1983
New local jobs
5, and trainee possibility for 5-10 people
Number of similar projects
None in Denmark. (Artefact in Germany, CAT in UK.)
Contact persons for
further information

Jane Kruse
Nordic Folkecenter for Renewable Energy
Kammersgaardsvej 16, Sdr. Ydby
Hurup Thy, DK-7760, Denmark.
Ph: +45 9795 6600; Fax: +45 9795 6565
E-mail:info@folkecenter.dk
www.folkecenter.net